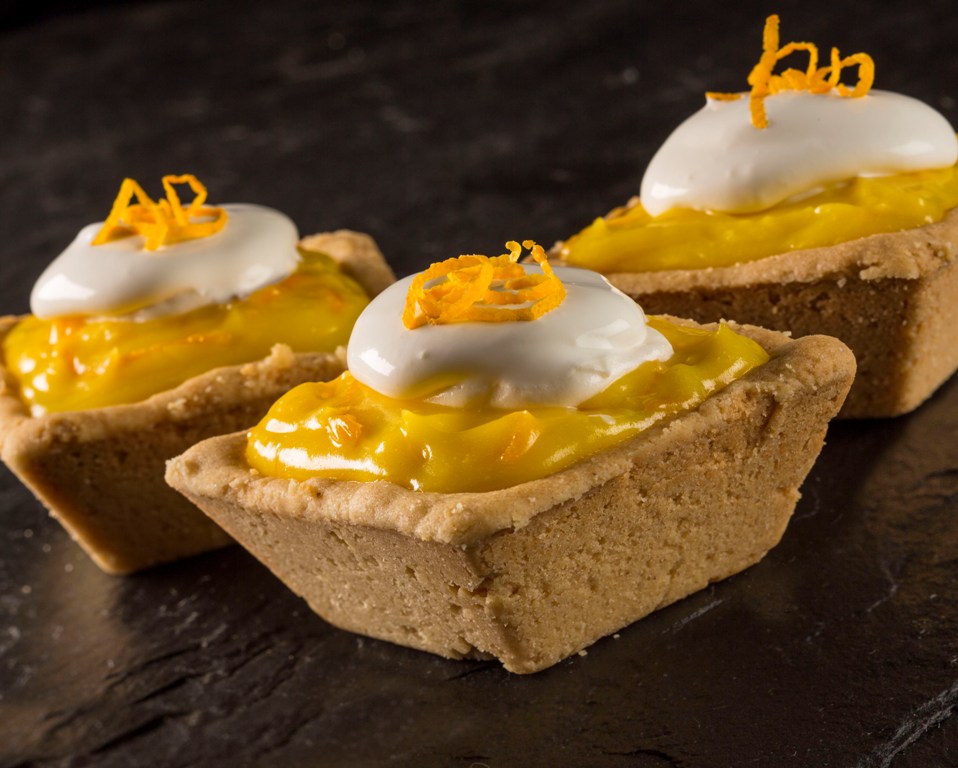 Florida Tangerine Fruit Tart
Ingredients
For Crust:
225 g unsalted butter

100 g sugar

360 g all-purpose flour

½ tsp. sea salt
For Tangerine Curd:
6 Florida Tangerines

500 ml Florida tangerine juice

12 egg yolks

200 g sugar

1 tsp. sea salt

450 g unsalted butter, chilled, cubed

1 (400 g) package gelatin
For Garnish:
Florida Tangerine Zest, if desired

Whipped cream, if desired
Equipment:
8 (10-cm) diameter tart pans
Preparation
Florida Tangerine Fruit Tart
PREPARE CRUST:

Preheat oven to 180° C. Melt butter in small saucepan over medium heat until golden brown; remove from heat.Add sugar and stir until combined.Combine flour and salt in mixing bowl; stir in the melted butter mixture and mix until texture is crumbly.Divide mixture among tart pans, pressing into bottom and up sides of pans.Bake for 30 to 35 minutes or until light golden brown.Cool completely in tart pans on wire rack.Gently unmould, if desired.
PREPARE TANGERINE CURD:

Zest Florida Tangerines using a microplane.Combine tangerine zest, egg yolks, Florida Tangerine Juice, sugar and sea salt in the top of a double boiler*; whisk together. Place small amount of water in bottom of double boiler, making sure water level will not touch top of double boiler.Bring water in the bottom of the double boiler to a boil; reduce heat to simmer.Place the top of the double boiler with Tangerine Curd ingredients on top; whisk constantly until mixture thickens and evenly coats back of a spoon with a thick layer.

Remove the top of the double boiler from the bottom.Whisk in butter, one cube at a time, until fully incorporated.Prepare gelatin according to package directions; whisk into Tangerine Curd mixture.Pour Tangerine Curd into tart shells; refrigerate until set or overnight.Garnish tarts with whipped cream and tangerine zest just before serving, if desired.

Helpful Tips:

If double boiler is not available, prepare Tangerine Curd mixture in large stainless mixing bowl.Carefully place mixing bowl over simmering water in saucepan, making sure water does not touch bottom of mixing bowl.Proceed as above.