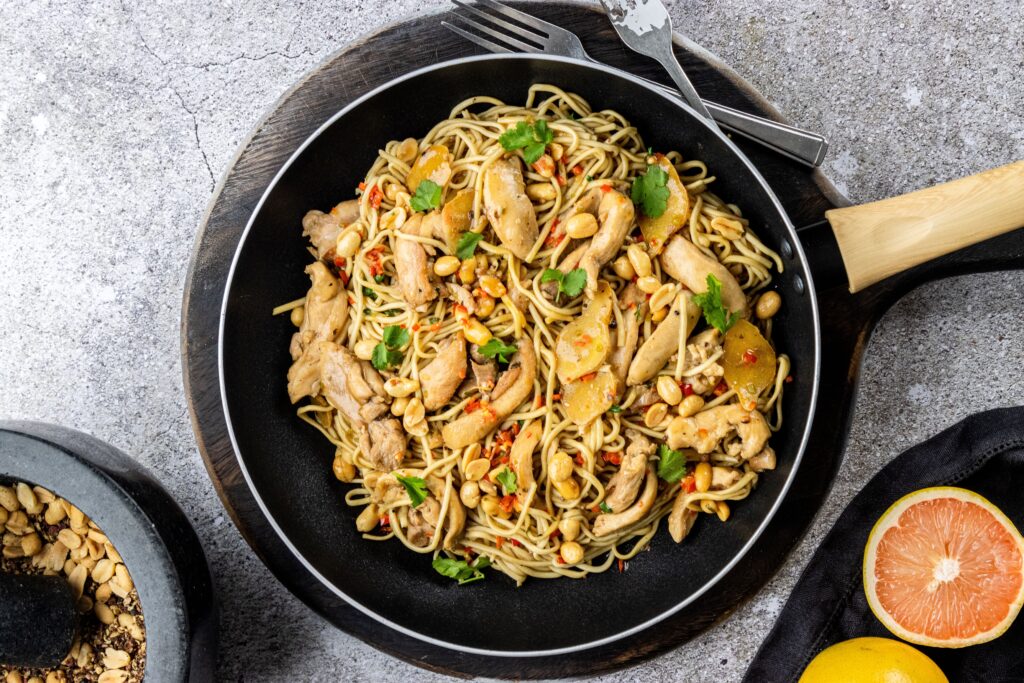 Chicken with Chilli, Florida Grapefruit, and Ginger
Serves 4
Ingredients
2 Florida Grapefruit
400g diced chicken thigh
1 tbsp olive oil
2 tbsp sichuan peppercorns
1 red chilli, chopped
1 thumb of ginger, sliced
1 garlic clove, chopped
1 handful of coriander stalks for the sauce and leaf to finish
4 tbsp soy sauce
1 tbsp corn flour
500g ready-to-wok noodles
Handful of peanuts
Preparation
Chicken with Chilli, Florida Grapefruit, and Ginger
1. Pre-heat a wok and add the oil and chicken to the pan. Cook on high heat for 5 minutes until golden.
2. Meanwhile, crush the peppercorns and add to the pan with the chicken.
3. Scatter in the chopped red chilli, ginger, and the garlic. Chop the coriander stalks and add to the pan.
4. Continue to cook for a further 5 minutes, then cut the Florida Grapefruit in half and squeeze out the juice over the chicken. Pour in the soy sauce and simmer gently.
5. Mix the corn flour with a little water and stir into the pan to thicken the sauce.
6. Finally, add the cooked noodles, peanuts, and coriander leaf to finish.