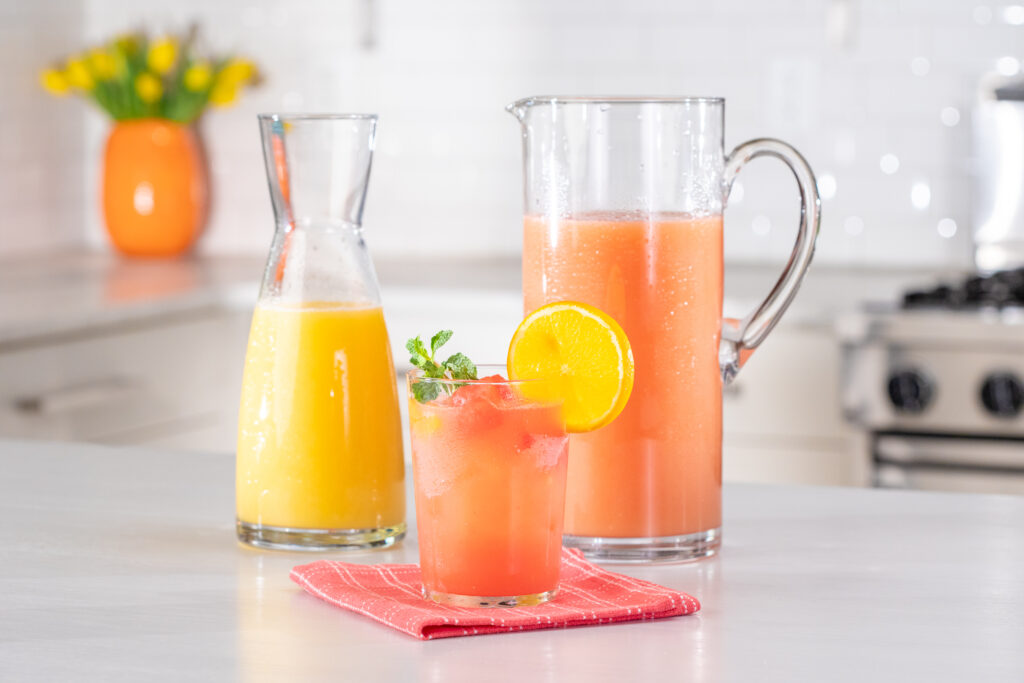 Florida Citrus Watermelon'ade
Ingredients
500ml orange juice 
250ml juice from 2 Florida Grapefruit
200g sugar 
250ml hot water 
220g oranges, cut into 2.5cm pieces, peeled 
925g watermelon, seeded, no rind, cut into 2.5cm pieces, divided 
175ml lemon juice 
175ml lime juice 
15g mint leaves 
Orange slices, for garnish 
Watermelon chunks, for garnish 
Preparation
Florida Citrus Watermelon'ade
1. Combine sugar and hot water in small saucepan over low heat; heat until sugar is dissolved. Refrigerate until chilled. 
2. Purée 616g watermelon in blender until smooth. 
3. Place watermelon juice, chilled sugar syrup, orange juice, Florida Grapefruit juice, lemon juice, and lime juice in large pitcher; stir to combine. 
4. Add 309g watermelon pieces, orange pieces, and mint leaves; refrigerate for 2 to 3 hours until well chilled. 
5. Serve over ice in tall glasses. Garnish with orange slices and watermelon chunks, if desired.