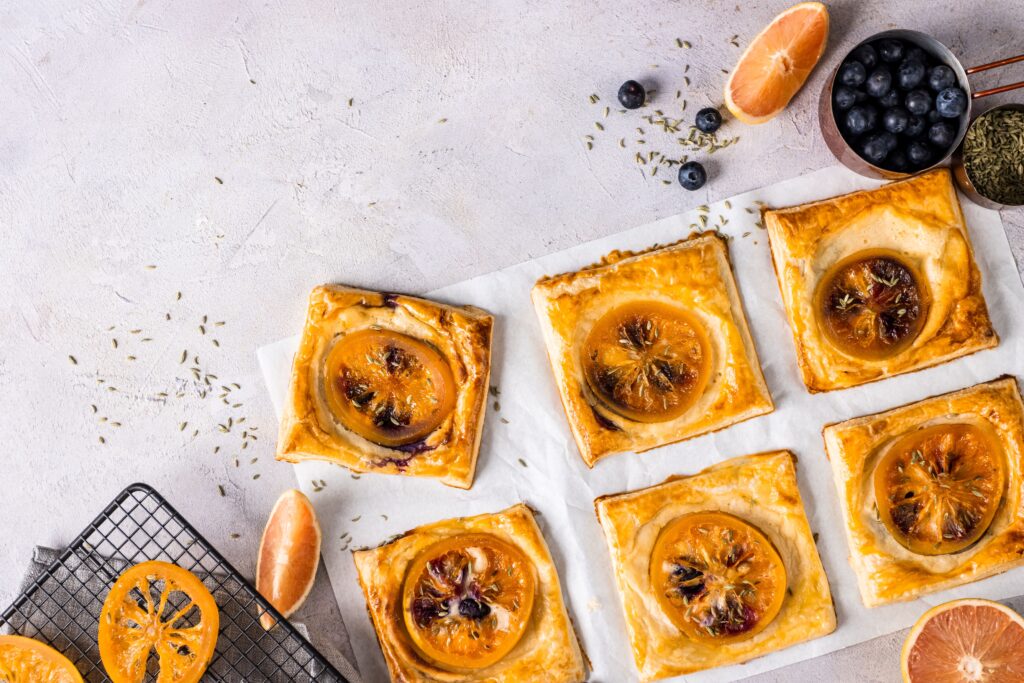 Florida Grapefruit, Blueberry and Mascarpone Danish Pastries
Ingredients
3 Florida Grapefruit
100g sugar
150ml water
1 tsp fennel seeds
250g mascarpone
3 tbsp plain flour
3 free range eggs
150g fresh blueberries
320g ready-rolled puff pastry
Preparation
Florida Grapefruit, Blueberry and Mascarpone Danish Pastries
1. Slice the Florida Grapefruit in half and place in a shallow pan with the sugar, water, and fennel seed.
2. Bring the pan to a simmer until the fruit is tendered; it should take 20 minutes or so.
3. In a mixing bowl, place the mascarpone, flour, and eggs; then, whisk together.
4. Roll the pastry out and cut into 6 squares.
5. When the Florida Grapefruit is cooked, softly remove from the heat and carefully lift out onto a cooling rack.
6. Using a square pastry cutter, make an indentation in the centre of each square but don't cut through; this will help the pastry rise up around the filling while baking.
7. Transfer the pastry squares onto a lined baking tray, making sure there is a little bit of space between each square.
8. Place approximately 50g of the mascarpone mixture in the centre of each pastry square; then, add a few blueberries.
9. Lift the cooked slices of Florida Grapefruit onto the centre of the pastries and brush with the remaining beaten egg.
10. Bake in a pre-heated oven at 170c for 20-25 minutes or until golden.