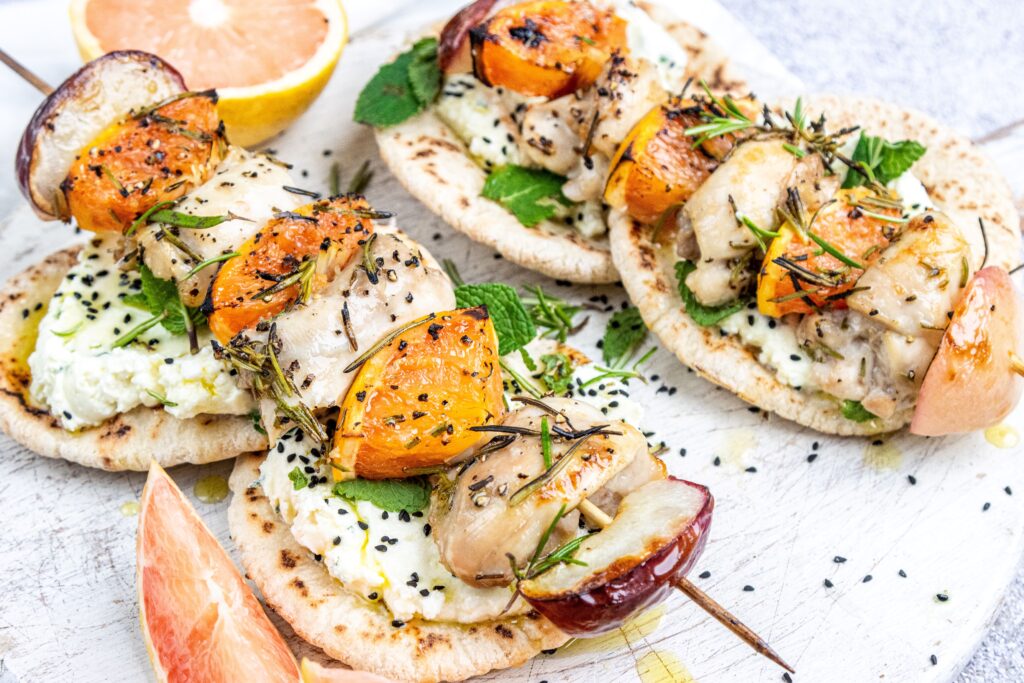 Chicken Skewers with Florida Grapefruit, Nectarine, and Mint served with Flatbreads and Whipped Feta
Serves 4
Ingredients
2 Florida Grapefruit, cut into slices
1 tbsp Florida Grapefruit juice
6 chicken thighs, skinless and bone removed
2 nectarines, cut into quarters
2 tbsp olive oil
Salt and pepper
1 tbsp fresh rosemary
100g feta cheese
100g ricotta cheese
2 tbsp mint
1 tbsp onion seeds
4 pitta breads
Preparation
Chicken Skewers with Florida Grapefruit, Nectarine, and Mint served with Flatbreads and Whipped Feta
1. Cut each of the chicken thighs in half and place in a bowl. Push the chicken and Florida Grapefruit onto wooden skewers alternating each ingredient.
2. Place a slice of nectarine on each end of the kebab stick to secure the ingredients.
3. Season the kebabs with olive oil, salt, pepper, and fresh rosemary. Place the chicken under a pre-heated grill and cook for 15 minutes or until the chicken is cooked through and the Florida Grapefruit is caramelised.
4. Meanwhile, whip together the feta, ricotta, Florida Grapefruit juice, and half of the mint until smooth.
5. Spread the whipped feta onto the pitta breads and scatter with the remaining mint and onion seeds.
6. When the chicken is cooked, remove from the grill and place on top of the pitta breads.
7. Serve with an extra squeeze of Florida Grapefruit and enjoy.