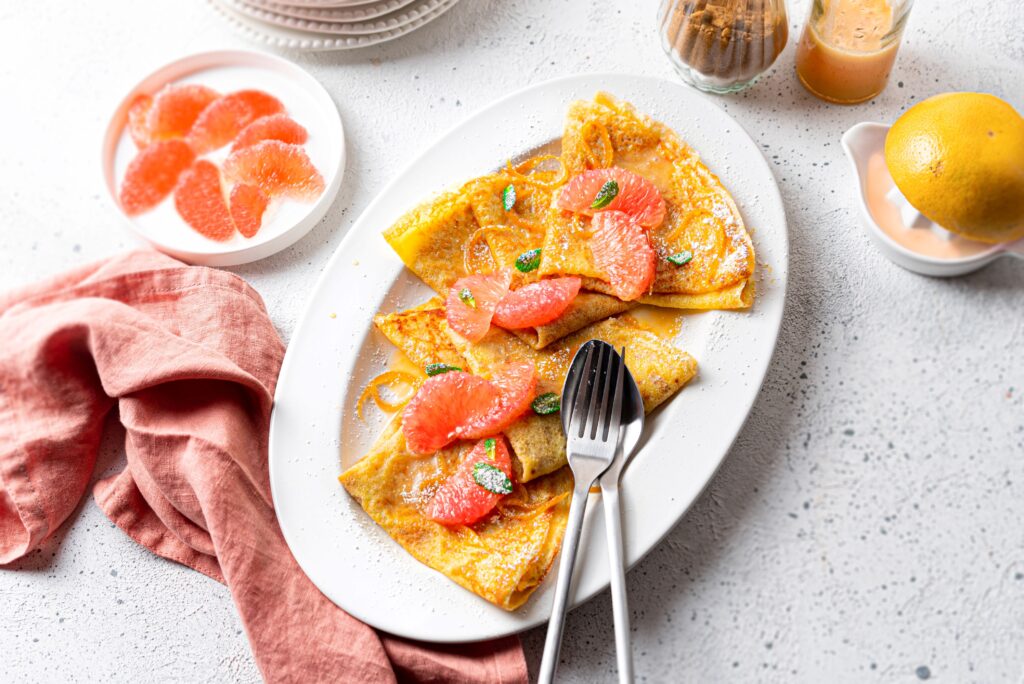 Florida Grapefruit Suzette Crepes
Serves 12
Ingredients
For the crepe batter:
500g of flour
1L of milk
4 eggs
40g of melted butter
1 vanilla pod
50g of powdered sugar
For the sauce:
2 Florida Grapefruit
30g of caster sugar
30g of honey
40g of butter
Preparation
Prep Time
Cook Time
Total Time

1 hour

30 minutes

30 minutes

2 hours
Florida Grapefruit Suzette Crepes
1. In a large bowl, mix the sifted flour with half the milk so that the flour integrates without creating lumps.
2. Add the eggs one by one and mix. Add the vanilla, melted butter, and sugar. Add the second half of the milk. Place in the fridge for at least 1 hour.
3. Cook the crepes then stack them as you go, sprinkling a little sugar between each crepe and let them cool, covered.
4. You can cut the Florida Grapefruit into segments and collect the juice. Squeeze the second Florida Grapefruit.
5. Cook the sugar in a pan with the Florida Grapefruit juice and honey. As soon as the juice becomes denser, add the soft butter and whisk.
6. Serve the crepes by basting them with hot sauce or you can heat them directly on the pan with the sauce.
Serve them with fresh Florida Grapefruit segments to add a little pep to your dessert.