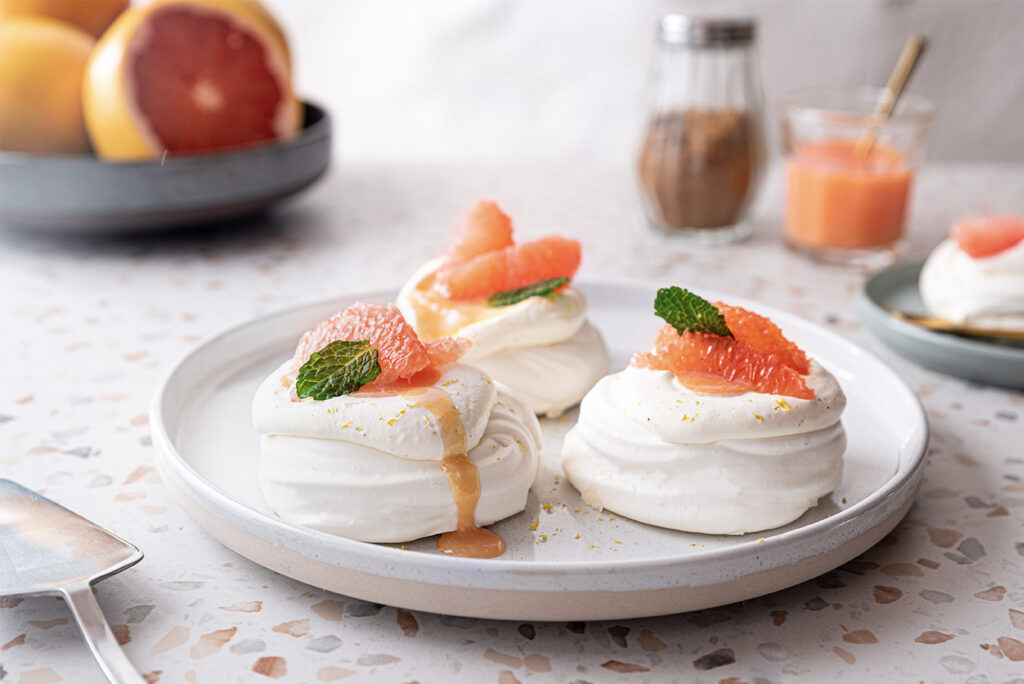 Florida Grapefruit Mini Pavlova
Ingredients for 6 pavlovas
Ingredients
For the meringues
120g egg whites (which corresponds to about 4 eggs)
120g powdered sugar
120g icing sugar
For the cream
100g mascarpone
50g powdered sugar
300ml full cream
1 vanilla pod
For the curd
6 egg yolks
2 Florida Grapefruit
30g cornstarch
300g powdered sugar
1 pinch of salt
40g soft butter
For the decoration
1 Florida Grapefruit
2 sprigs fresh mint
Preparation
Preparation time: 30 minutes
Resting time: 3 hours + 3 hours
Cooking time: 1 hour
Total time: 7h 30 minutes
Florida Grapefruit Mini Pavlova
1. Remove the zest from 2 Florida Grapefruit, cut them in half and squeeze out the juice.
2. Take your 6 eggs and separate the whites from the yolks. Keep 4 whites for the meringues.
3. Mix half of the zest with the egg yolks and keep the rest for the whipped cream.
4. In a clean saucepan, mix the sugar, salt, and cornstarch.
5. Add the Florida Grapefruit juice and whisk until it is incorporated into the mixture. Place the saucepan over medium heat and bring the mixture to the first boil. Whisk occasionally.
6. Once boiling, let boil for 2 minutes while whisking to prevent burning.
7. Pour some of the hot mixture into the egg yolk bowl. Whisk immediately to prevent the yolks from cooking.
8. Then transfer the mixture to the pan and whisk until incorporated.
9. Simmer for about 5 minutes until the mixture thickens, stirring occasionally.
10. Remove from heat and add cold butter cut into small cubes. Whisk until the butter is melted and well mixed.
11. Place in a shallow dish and cover with plastic wrap. Let cool completely for 2 or 3 hours.
12. Preheat your oven to 110°C without the fan heat and move on to making the meringues.
13. Beat the egg whites fairly vigorously and add the powdered sugar as you go. The whites will become stiff and a bit shiny. Then, lower the speed of your mixer and gradually add the powdered sugar. Continue beating to thicken the mixture. The mixture should look like a bird's beak on the tip of your whisk once the meringue is ready.
14.
Place the baking paper on a baking sheet. Draw 6 circles to guide you.
15. Pour the whites into a piping bag with the tip of your choice. Make 4 thin discs for the bottom and finish by creating a border around them by piping a second and third time around the edges.
16. Bake for 50 minutes, without opening the oven to prevent the meringues from falling out. When the meringues are done, leave them in the oven with the door ajar to cool without splitting.
17. Put the whipping cream in the freezer for 30 minutes, along with the bowl that you will use to whip it.
18. In two large bowls, whip the mascarpone with the powdered sugar on one side and the whipped cream on the other. Mix the two gently with a spatula. Add a teaspoon of Florida Grapefruit zest.
19. Fill the meringues 3/4 of the way with the whipped cream-mascarpone mixture and spoon the curd into the center.
20. Peel and cut the last grapefruit into segments. Arrange pieces of fresh fruit on top and sprinkle with mint.
Enjoy!
Tip: Ideally, bake the meringues in the evening and leave the door ajar overnight.