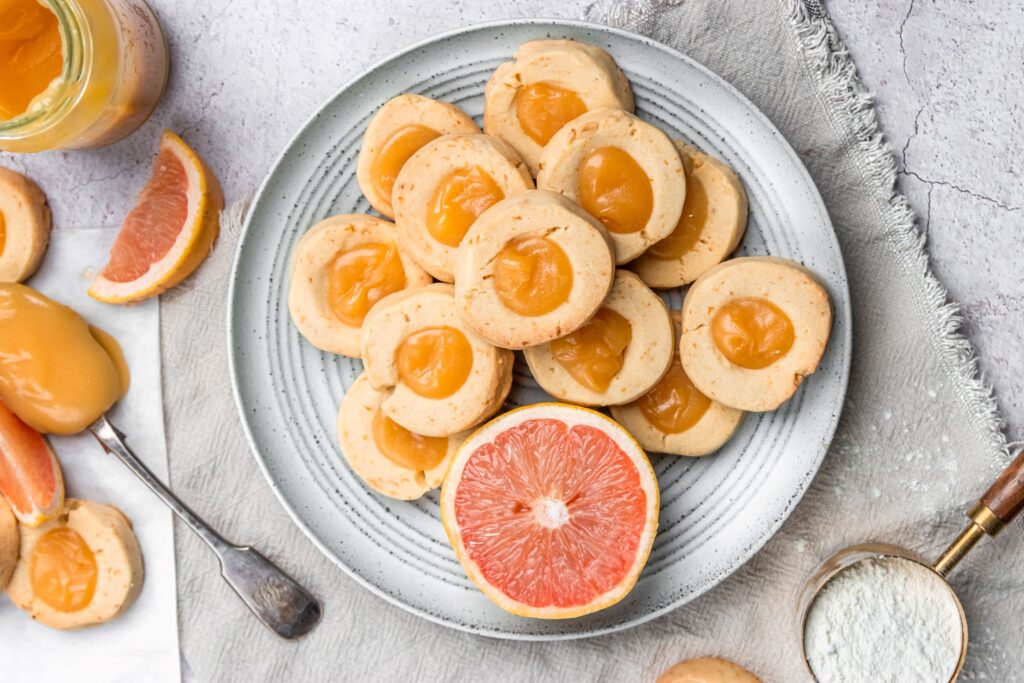 Florida Grapefruit Cookies
Ingredients
2 Florida Grapefruit, zest
250g plain flour
70g icing sugar
150g butter, cut into chunks
2 free range egg yolks
100g grapefruit curd
Preparation
Florida Grapefruit Cookies
1. Sieve the flour and icing sugar into a mixing bowl.
2. Add the zest of the Florida Grapefruit.
3. Rub the butter into the flour mixture until it forms a crumble texture. Transfer the crumble onto a clean worktop and press together until it forms a dough, then roll into a cylinder shape, approximately 5cm diameter and place in the fridge for 1 hour.
4. Slice the cookie dough into 2cm thick disks and place onto a baking tray.
5. Once the biscuits have warmed up to room temperature, (it should take 15-20 minutes) use your thumb to make an imprint on the top of each biscuit.
6. Bake in a pre-heated oven at 170c for 12-15 minutes or until golden. Remove the biscuits from the oven and leave to cool for 10 minutes, then add a small spoon of the curd on top of each of the biscuits.