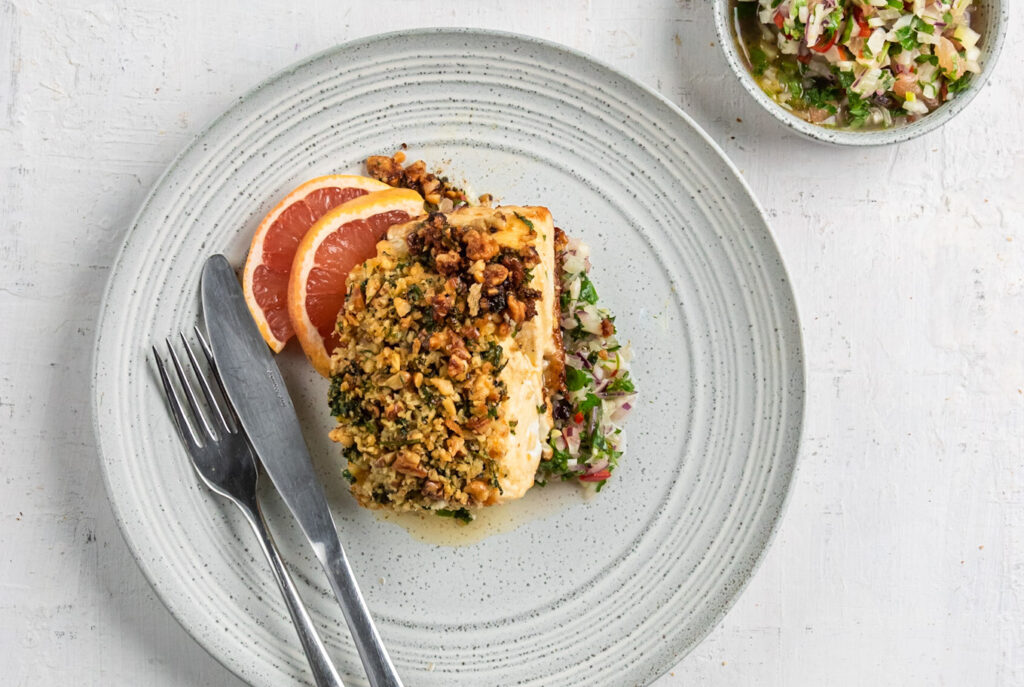 Halibut with Florida Grapefruit and California Walnuts
Serves 4
Ingredients
4 fillets of halibut
1 tbsp olive oil
Salt and pepper
For the topping
70g California Walnuts
30g panko breadcrumbs
Parsley
3 tbsp olive oil
For the salsa
2 Florida Grapefruit
1/2 red onion
1/2 fresh red chilli
1 fennel bulb, finely chopped
1 handful flat leaf parsley
3 tbsp extra virgin olive oil
Preparation
Halibut with Florida Grapefruit and California Walnuts
1. Pat the fish fillets dry with a kitchen bowl, then drizzle with olive oil and season with sea salt and pepper.
2. Pre heat a non stick frying pan on medium heat.
3. Place the fish into the pan and cook each one until golden.
4. Meanwhile to make the topping, chop the California Walnuts and place in a shallow bowl with the chopped parsley, breadcrumbs, and olive oil.
5. Turn the fish over and top with the walnut crumb.
6. Place the fish still in the frying pan into the oven at 160c and cook for 12 minutes or until the fish is cooked.
7. To make the salsa, chop the red onion as finely as you can and place in a bowl with the juice of the Florida Grapefruit and the chopped red chilli.
8. Stir together to help the acidity of the grapefruit; pickle the onion and chilli for a nice tangy flavour.
9. Add the chopped fennel and stir together once again.
10. Finally, add the olive oil and chopped parsley to create a delicious salsa.
11. When the fish is cooked, remove from the oven and serve with the salsa.