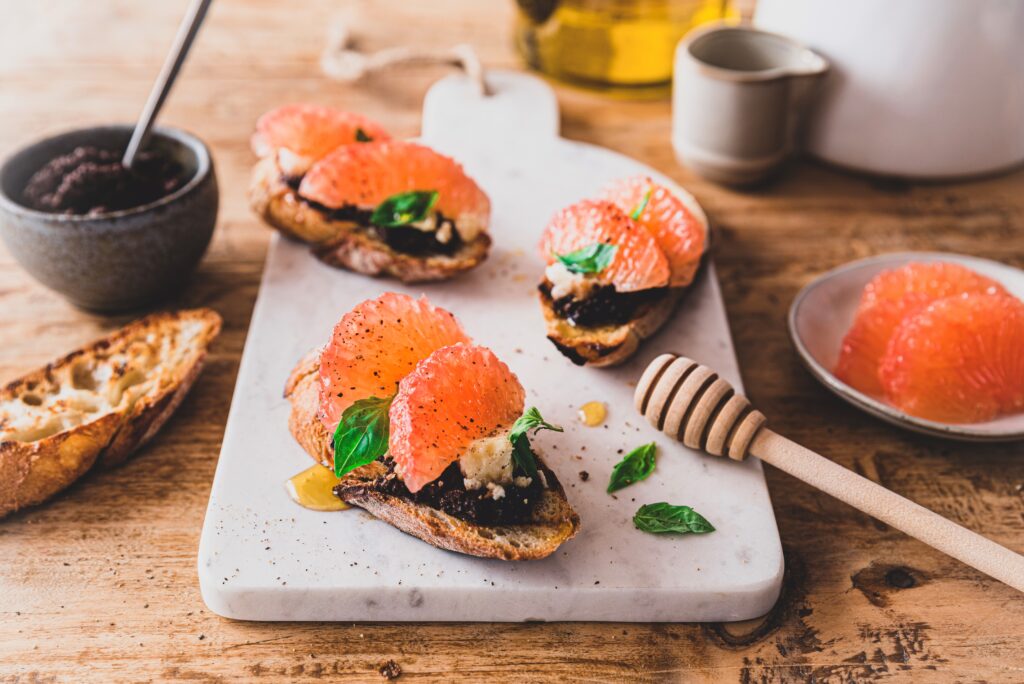 Mediterranean Crostini with Florida Grapefruit
Ingredients for 12 crostinis
Ingredients
1 Florida Grapefruit
1 baguette
1 piece of goat cheese
250g pitted black olives
1 small clove of garlic, peeled and degermed
2 tablespoons of capers
6 tablespoons of olive oil
1 small anchovy in oil
1 teaspoon of mustard
1 bunch of basil
1 tablespoon of honey
Salt and pepper
Preparation
| Prep Time | Cook Time | Total Time |
| --- | --- | --- |
| 20 minutes | 3 minutes | 23 minutes |
Mediterranean Crostini with Florida Grapefruit
1. Peel, then cut ¾ of the Florida Grapefruit into supremes. Set aside.
2. Squeeze the rest of the grapefruit and collect the juice.
3. In a blender, finely blend the olives, mustard, capers, anchovy, oil, garlic, and grapefruit juice.
4. Cut the baguette into slices, grease each side with a few drops of olive oil for a nice color, and brown them on each side in a frying pan.
5. Place a spoonful of tapenade on each slice of bread. Add thin slices of goat cheese to each slice of toast. Place a few Florida Grapefruit supremes and one or two basil leaves on top.
Finally, add a drizzle of honey on each crostini and it's ready!
Tip: Ideally, assemble the toasts at the last minute to keep them as crisp as possible. The tapenade can be kept for a week in an airtight jar.