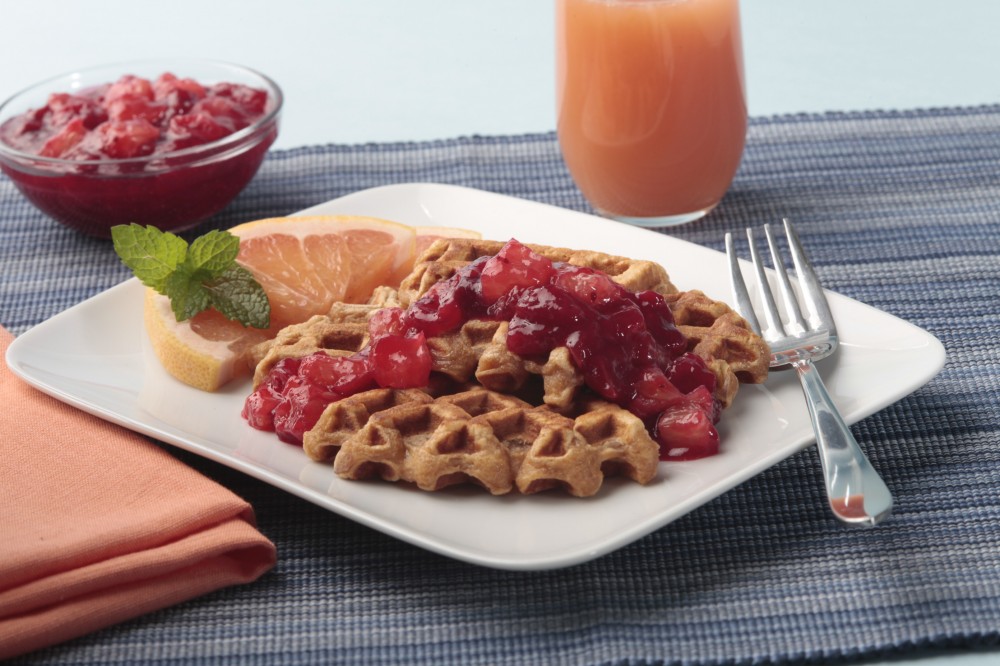 Nutty Grapefruit Waffles With Cranberry Grapefruit Compote
Ingredients
250 ml 100% Florida grapefruit juice

225 g nonfat plain Greek yogurt

25 g sliced almonds or flax seeds

2 large eggs, beaten

2 tablespoons honey

120 g all-purpose flour

60 g whole wheat flour

1 tablespoon baking powder

1 teaspoon salt

Canola oil
Cranberry Grapefruit Compote:
3 tablespoons cornstarch

500 ml water, divided

1 (~450 g) bag frozen whole cranberries

135 g sugar

60 ml 100% Florida grapefruit juice

1 tablespoon grapefruit zest

1 teaspoon vanilla

1 fresh Florida grapefruit, peeled, segmented and diced
Preparation
Nutty Grapefruit Waffles With Cranberry Grapefruit Compote
Compote Preparation:
Dissolve cornstarch in 125 ml water; pour into a non-reactive saucepan and add 375 ml water, stirring to combine.Add cranberries, sugar, grapefruit juice, grapefruit zest and vanilla; stir to combine.Bring to a boil; reduce heat and simmer over low heat for 15 minutes, stirring occasionally, until mixture is very thick and liquid is clear.Remove from heat and stir in grapefruit segments.
Waffle Preparation:
In a large bowl, combine grapefruit juice, yogurt, almonds, eggs and honey; set aside.Sift or stir together all-purpose flour, whole wheat flour, baking powder and salt.Using a large spoon, gently stir flour mixture into grapefruit juice mixture just until combined, being careful not to over-mix.Brush waffle maker* with oil and cook waffles according to waffle maker's directions, using about 125 ml batter per waffle.Brush waffle maker with oil before each batch of waffles.Serve immediately topped with Cranberry Grapefruit Compote.

*A Belgian waffle maker is recommended.