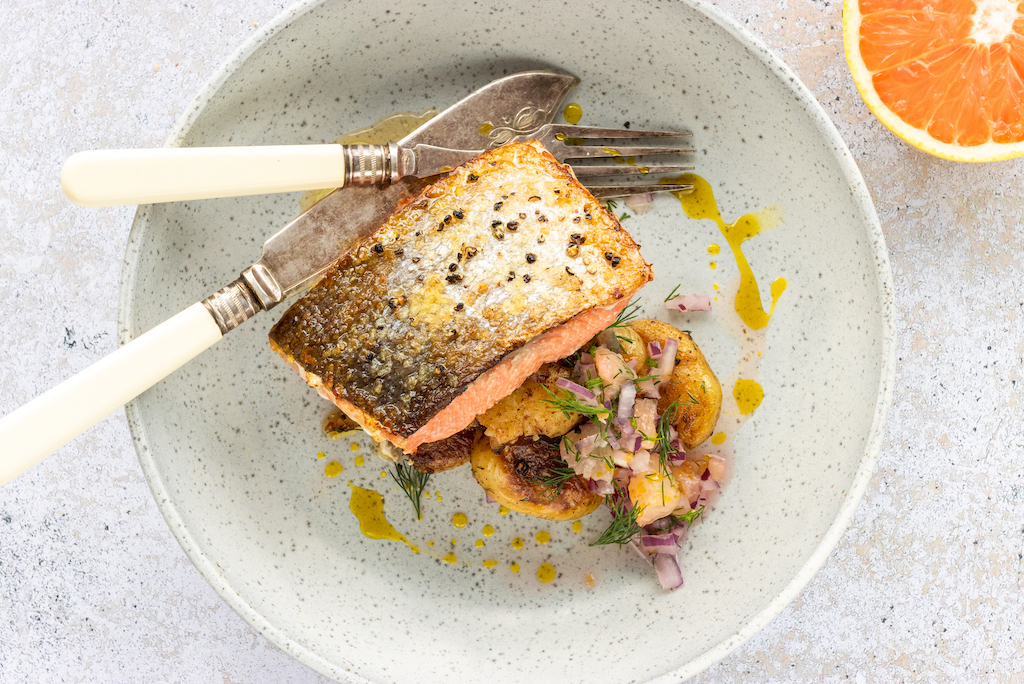 Pan-fried Fillet of Alaska Sockeye Salmon with Crushed Potatoes and a Florida Grapefruit and Dill Sauce
Ingredients
4 fillets of Alaska Sockeye Salmon, skin on
400g baby new potatoes
2 tbsp olive oil
1 tbsp sea salt
Salt and pepper
For the dressing
1 Florida Grapefruit
4 tbsp olive oil
2 tbsp fresh dill, chopped
1 tbsp honey
Salt and pepper
Preparation
Pan-fried Fillet of Alaska Sockeye Salmon with Crushed Potatoes and a Florida Grapefruit and Dill Sauce
1. Cook the potatoes in a large pan of salted boiling water until tender.
2. When cooked, drain and leave to cool for 10 minutes.
3. Pour the olive oil into a roasting tray and heat up in the oven, then add the potatoes.
4. Using a potato masher or your hands, squash the potatoes once and season with a little sea salt and pepper.
5. Cook the potatoes in a pre-heated oven for 30 minutes at 180c or until golden and crispy.
6. Meanwhile, dry the fish with a piece of kitchen towel as it is vital that your fish is dry before oiling and seasoning with sea salt and pepper.
7. Pre heat a large non-stick frying pan, then add the fish skin side down.
8. Cook on a medium heat for 7-8 minutes or until the skin is crispy and golden; you should see the fish changing colour from red to pink.
9. Turn the fish over and cook for a further 3-4 minutes.
10. To make the dressing, add the zest and juice from the Florida Grapefruit into a bowl.
11. Add the olive oil, dill, and honey before whisking together.
12. Season with a little salt and pepper.
13. Remove the crushed crispy potatoes from the oven and serve with the Alaska Sockeye Salmon and the Florida Grapefruit dressing.