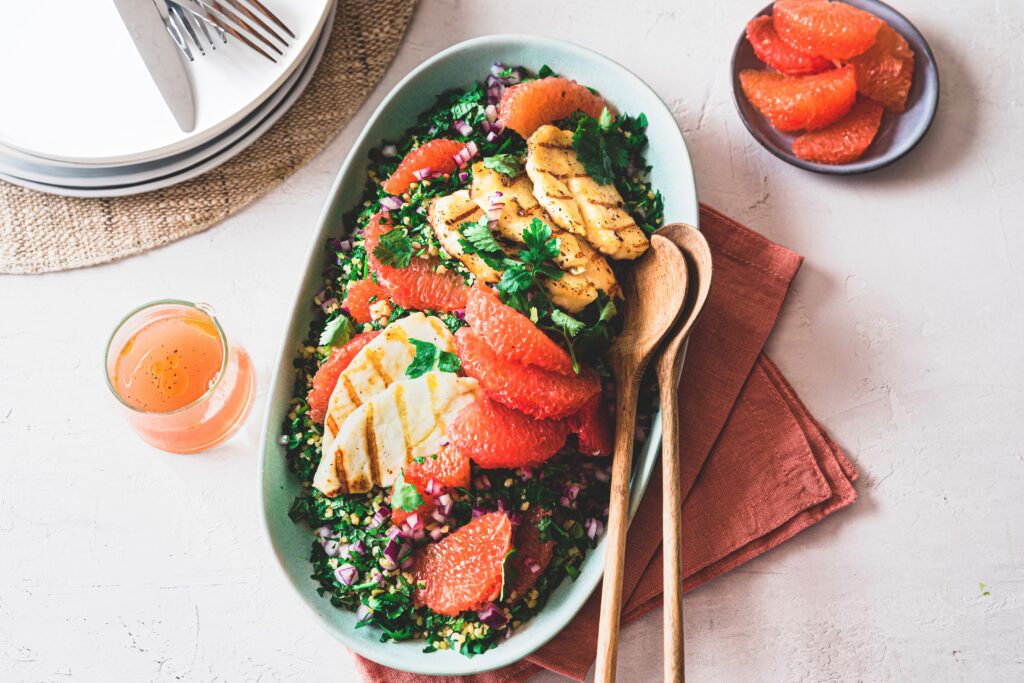 Florida Grapefruit Tabbouleh
Ingredients for 6 people
Ingredients
2 Florida Grapefruit
200g of bulgur
200g of halloumi
1 teaspoon of cinnamon
1 red onion
2 large bunches of flat parsley
1 bunch of coriander
1 bunch of fresh mint
1 teaspoon of honey
Olive oil
Salt and pepper
Preparation
| Prep Time | Cook Time | Total Time |
| --- | --- | --- |
| 20 minutes | 15 minutes | 35 minutes |
Florida Grapefruit Tabbouleh
1. Start by peeling and cutting your grapefruit into segments.
2. Squeeze the remaining grapefruit and reserve the juice.
3. In a large saucepan, heat a drizzle of olive oil and pour in the bulgur. Let it brown for one minute while stirring. Season with salt and pepper, and add the cinnamon. Pour twice the volume of bulgur in water. Cover your mixture, and let it cook over low heat until the water is completely absorbed. Then, let it cool down.
4. In the meantime, wash the herbs and dry them carefully before chopping them finely.
5. Peel and finely chop the red onion.
6. In a bowl, mix the herbs, cooled bulgur, and red onion.
7. Heat a little olive oil in a frying pan, then cut the halloumi into slices and grill them on both sides.
8. For the dressing, mix the Florida Grapefruit juice with two tablespoons of olive oil, honey, salt, and pepper.
9. Season the tabbouleh with the dressing, add the grapefruit segments and arrange on a plate.
10. Add the grilled halloumi pieces on top.
Refreshing and convivial, this Lebanese specialty is perfect for a light and gourmet meal!
Tip: Grill the halloumi at the last minute to keep the cheese from melting