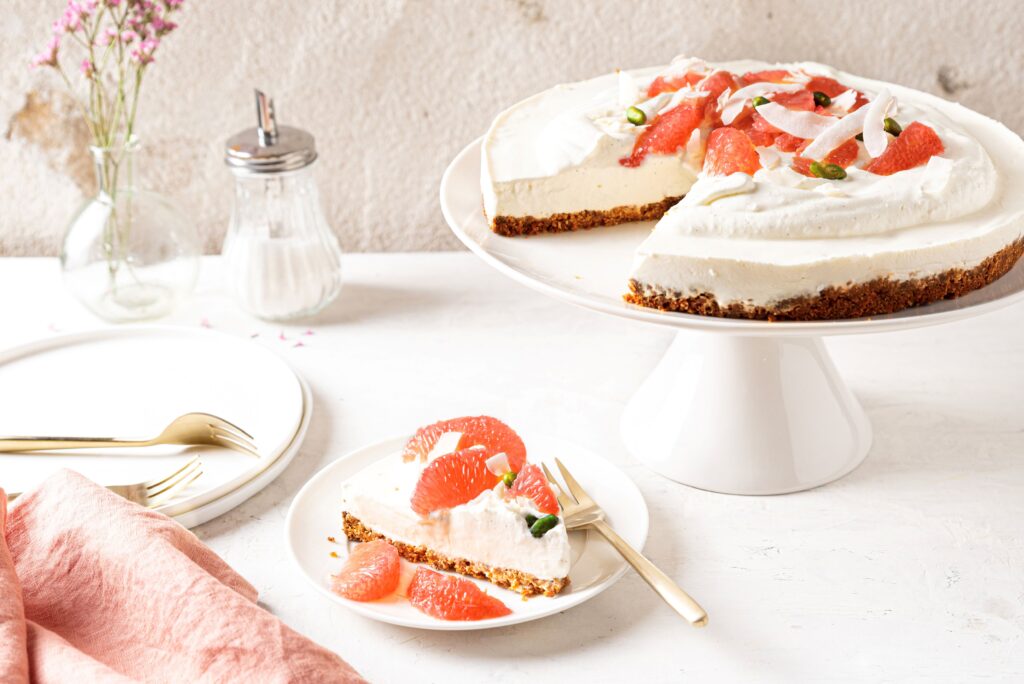 No-Bake Florida Grapefruit Cheesecake
Serves 8
Ingredients
2 Florida Grapefruit
170g of speculoos biscuits
70g of butter
60g of grated coconut
450g of cream cheese
30cl of coconut cream
1/2 teaspoon of coconut extract
100g of white sugar
20cl of 30% whipping cream
3 tablespoons of sifted icing sugar
1 vanilla pod
1 tablespoon of shelled pistachios
40g of coconut shavings (optional)
Preparation
No-Bake Florida Grapefruit Cheesecake
1. Crush the speculoos into a fine powder. Mix them with the grated coconut and melted butter.
2. Cut the Florida Grapefruit into segments. Collect the juice. Pour 4 tablespoons of juice into the speculoos.
3. In a springform pan, spread the speculoos / coconut mixture, packing well over the entire surface. Place in the fridge for 1 hour.
4. Meanwhile, whip the cream cheese with the coconut cream, extract, and sugar.
5. Pour the mixture into the cake pan once the cookie has solidified.
6. Refrigerate for 2 hours.
7. Prepare the vanilla whipped cream. Whip the cream until it has a frothy texture. Collect the seeds from the vanilla bean. Add the well sifted icing sugar, and vanilla, then mix gently with a spatula.
8. Place the cream in the fridge.
9. When the cheesecake is set, you can place it another 30 minutes in the freezer before unmolding it to keep it firm.
10. Carefully transfer the cheesecake to a serving platter.
Arrange the whipped cream on top then decorate with Florida Grapefruit segments and crushed pistachios. You can also add coconut shavings for crunch.